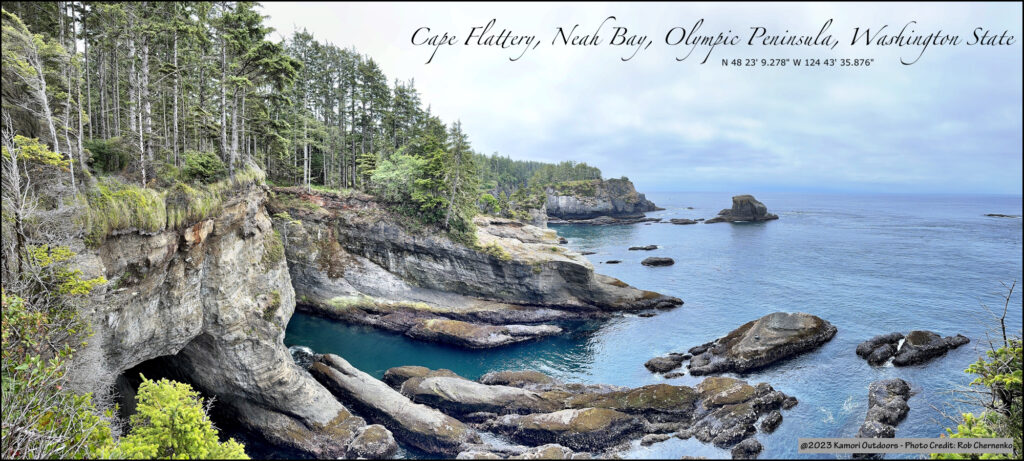 CAPE FLATTERY, NEAH BAY, OLYMPIC PENINSULA, WASHINGTON STATE (N 48 23′ 9.278″ W 123 43′ 35.876″)
Welcome to Cape Flattery, a breathtaking coastal gem nestled in the picturesque state of Washington! As you embark on a journey of natural wonder and awe-inspiring beauty, Cape Flattery promises an unforgettable adventure.


Perched at the northwesternmost tip of the contiguous United States, Cape Flattery is a stunning paradise where the Pacific Ocean meets rugged cliffs and ancient forests. The splendor of this untouched wilderness will captivate your senses and leave you in awe of Mother Nature's artistry.


Prepare to be mesmerized by the dramatic landscapes, as majestic sea stacks rise from the swirling waters below, creating an otherworldly sight that will take your breath away. As you wander along the well-maintained trails, you'll be surrounded by lush vegetation, towering cedar trees, and a chorus of seabirds that call this coastal haven home.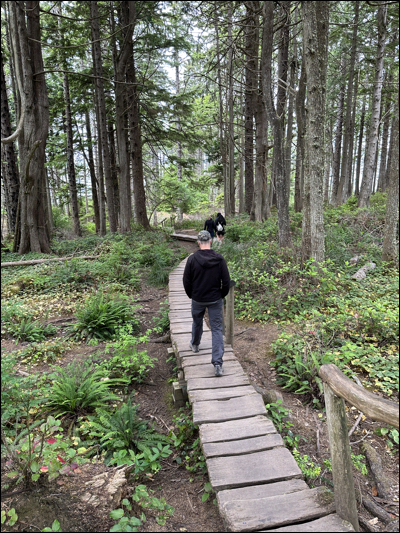 Cape Flattery also boasts one of the most incredible viewpoints in the country, offering panoramic vistas of the vast ocean stretching into the horizon. Take a moment to pause and feel the cool ocean breeze on your face while watching the waves crash against the rugged cliffs. It's a place where time seems to stand still, allowing you to connect with the raw power of nature.


For wildlife enthusiasts, Cape Flattery is a sanctuary of natural diversity. Keep your eyes peeled for whales gracefully gliding through the water, eagles soaring in the sky, and playful otters frolicking along the shore. Seals and sea lions often bask in the sun on nearby rocks, providing a true spectacle of the wonders of coastal life.


Whether you're an avid hiker, a nature lover, or simply seeking a serene escape from the bustle of everyday life, Cape Flattery welcomes you with open arms. From stunning sunsets to the symphony of crashing waves, this place is a photographer's dream, beckoning you to capture its beauty and share it with the world.


So, come and experience the magic of Cape Flattery – a hidden treasure in the heart of Washington State. You'll find yourself immersed in a world of unspoiled wonder, leaving with memories that will last a lifetime. Get ready for an unforgettable journey that will ignite your soul and remind you of the power and splendor of our natural world. Whether it's a hot sunny day or stormy weather, you are guaranteed spectacular vistas!
HOW TO GET THERE
If you are coming from Seattle, take one of the many ferries across the channel, head up to Port Angeles, and then drive Highway 101 west for 5 miles. Turn onto Highway 112 west and continue for 64 miles to Neah Bay. Continue on Bayview Avenue for 1 mile, then make a left on Fort Street, a right on Third Street, and a left on Cape Flattery Road. (signs make these directions easy to follow).
Drive Cape Flattery Road to its end as it becomes Cape Loop Road, 7.6 miles. The Cape Flattery parking area can hold about 20 cars, and is equipped with a pit toilet.


It's managed by the Makah Tribe, who provide permits for parking here at many locations in Neah Bay. As you drive through on the way to the trailhead, be sure to purchase yours — they're good for the year.